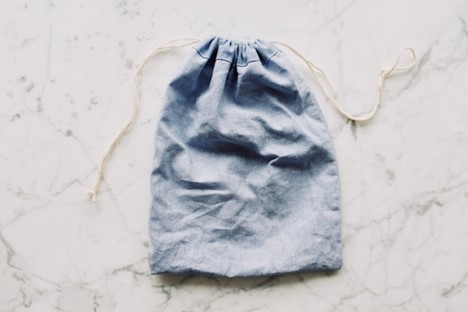 Blue Drawstring Bag
Drawstring bags have recently become an on-trend item due to their customizability and versatility, incorporating modern design elements to elevate the classic design. They come in different shapes, sizes, and materials which means they can provide something for everyone, but they also come with a common range of benefits which include:
Portability
A great feature of drawstring bags is their lightweight nature as they are usually made of cloth or other flexible materials such as cotton, nylon, polyester, etc. These materials offer different features, including superior product feel and durability along with portability. Drawstring bags do not have a solid structure as other handbags and backpacks, nor are they made of thick materials such as leather which can add to the weight of the items you are already carrying. This option is lighter to carry, and it promotes equal distribution of weight as it can be worn on both shoulders.
Convenience
Drawstring bags can be made of different materials, but a commonly used material is nylon which is easy to maintain as it is stain resistant making it a convenient option to have on hand. Additionally, these bags also come with one main storage pocket, which makes it easy for the wearer to search for any items as they don't come with multiple pockets and storage compartments with a multitude of buttons and zippers that make it more difficult to access the storage space.
Customizability
Brands producing bags have standard options that come in limited colors and designs that might not be representative of one's style, which is why drawstring bags are a great option if you're looking for something unique and in line with your personality. The bag might have a simple design, but they are highly customizable as the material and string color can be customized or dyed without ruining the product quality. You can print any design, including logos and monograms, which can be digitally printed on the material, and even bedazzle the fabric to make it your own.
Accessibility
Drawstring bags come with a simple mechanism for accessing any items you might have stored by using a simple pulling motion to open them out of the bag, which is also easier to secure by pulling the strings. The easy accessibility offered by these bags can save time while improving overall functionality making it a great option for no-fuss individuals.
Versatility
They also invoke a sense of nostalgia, making it a fashionable item that has been revamped by several high-end brands to introduce a level of creativity and unique designs, embroidery, and accessories, making the product a vogue item.
Uses for Drawstring Bags
The bag has multiple uses as it can be used as a sports bag, student backpack, gym and it can even be used for daily use. There are hiking backpacks which can be used for it, those bags have multiple compartments to fulfill the needs during hiking. Waterproof drawstring bags can be used for outdoor activities like hiking, fishing, snowboarding. It can keep your valuables from getting wet by water provided bags are closed properly. Instructions would be there for how to protect the stuff in the bags. People keep bags in the car so that they can use it when needed. Also, Logo can be printed on this and that can help company to promote its business. In fact, it is one of the widely sold items for career fair giveaways in our business.
All these feature answers the question, why drawstring bags are popular?